Posted on October 18, 2017 by Rolf in

Dr. Rolf Erdahl, an authority on the music of Edvard Grieg, presents "Accounting for Grieg," a lecture/recital about Grieg's formative influences. Erdahl and fellow Grieg Society Board member, pianist Sonja Thompson perform Grieg's "Intermezzo" along with selections from Grieg's Cello Sonata, Schumann's Fantasiestücke, Op. 73, and other music, assisted by Carrie Vecchione, oboe. This previews […]

Comments Off

on "Accounting for Grieg" at Norway House

Continue Reading...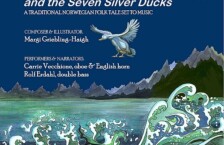 Posted on July 22, 2016 by Rolf in

Askelad is Norway's folk hero! He is the underdog who always prevails against all odds by his wits, ingenuity, and good fortune. Margi Griebling-Haigh wrote Askelad and the Seven Silver Ducks for us to tell of one of his famous exploits in words and music. She also illustrated an Askelad book/CD combo we recorded of […]

Comments Off

on OboeBass! plays Askelad & Music of Norway for Lyngblomsten Mid-Summer Festival

Continue Reading...