Home
»
Adult Music Learning Series
Adult Music Learning Series
The Adult Music Learning Series is a seven program music appreciation curriculum. It introduces audiences of all backgrounds to the exciting world of music. Additionally, some of the programs are well-suited for inter-generational audiences. Individual programs are also available for booking to meet your needs. Rolf and Carrie have presented hundreds of programs to audiences across the country, showcasing their engaging combination of instruments and stories.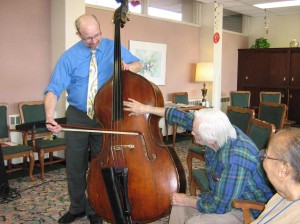 The Adult Music Learning Series programs:
The Remarkable Music Machine – experience this introduction
to the orchestra from the inside out.
Mozart, the Boy Genius, and the Masons – learn about one of
the most famous composers of all time, and experience The Magic Flute.
Music of the Mountains – an introduction to the life and music
of Edvard Grieg and musical Nationalism – Peer Gynt live!
The Spirit Sings – the rich legacy of African-American music, its
growth from slave songs to jazz to performers such as Marian Anderson.
The Carnival of the Animals – the life and music of the genius
Camille Saint Saens with focus on his delightful musical menagerie.
The Tales of the Carols – learn the stories behind many
beloved holiday songs, get into the spirit of the season!
The Classical and Jazzy Nutcracker – Tchaikovsky and his
famous ballet with a comparison to Duke Ellington's jazz version.
Concert –" A Musical Journey" – enjoy a fun concert with the
Vecchione/Erdahl Duo.
See other venues where we have done these programs throughout the state.
Interested in hosting a program or the whole series?
Wonderful! Terrific for all ages! Something to interest everyone.
We've never had a program like this. It was excellent.
Very high quality and professional.
A+