Home
»
Artistic Statement
Artistic Statement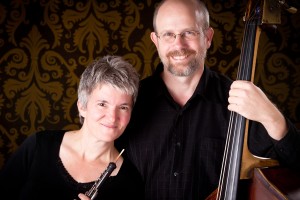 OboeBass! brings people together. Community grows from our collaborations with composers and audiences. Whether in a concert setting or an educational presentation, we engage people with the creative power of music. We build and advance our unique repertoire through commissions, performances, and recordings. We continually strive to develop new ways to teach music and reach audiences. 
Our programs leave a lasting impression on our audiences.
I had to leave the concert hall after your portion was complete: I did not want any other music in my head but yours the rest of the day. Now, two mornings later, I'm still hearing it.
– audience member, Schubert Club Court Room Concert
---
Distinctive Musical Voice: As the world's only professional oboe/bass duo, our unique career focuses on reaching, involving, and educating people with the creative power of music. Our performances educate; our educational programs are engaging performances. In recitals, we draw audiences into our musical journey of pioneering a new genre. We personally know all of our composers and can share their creative process with our audiences. Our repertoire is virtuosic and accessible, with folksong, jazz, tango, and literary inspirations. We make music that's comprehensible, meaningful, engaging, and inspiring for our audiences.
Education: Our Pages of Music with Rolf and Carrie educational programs link music with children's literature, and fill a real need for bringing music to the schools in a compact ensemble. We also reach senior audiences with monthly music learning series exploring topics including the orchestra, African American music, Tchaikovsky's and Ellington's Nutcrackers, Grieg's Music of the Mountains, and more.
What's Next? We constantly seek new commissions and collaborations. We develop new programs, and learn new repertoire. We have multiple recording, performing, and publishing projects in progress. We've come a remarkably long way creating a new type of ensemble and career. We are excited for what lies ahead. Thanks for being part of our journey!