Home
»
Artistic Statement
Artistic Statement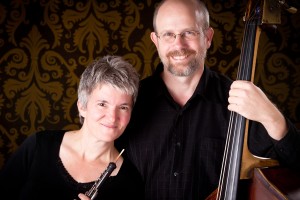 Mission of OboeBass! – The Vecchione/Erdahl Duo, Carrie Vecchione, oboe/English horn, Rolf Erdahl, double bass: We are committed to build and advance our unique repertoire through commissions, performances, and recordings that have exponentially increased the available oboe/bass duo repertoire. We constantly challenge ourselves to play at the highest artistic level and seek out new audiences across the country. We also continue to develop new ways to reach and teach music to audiences of all ages in our Pages of Music with Rolf and Carrie educational presentations to schools, libraries, and senior residences.
Background: We are both classically trained musicians with doctorates in music performance and extensive performing and teaching experience. We both continue to perform as symphonic and chamber musicians, and teach students from the elementary to university level. When we married, we sought repertoire for our instrumentation and found very few oboe/bass duo. Talented composer friends stepped into the breech. We continue to seek and attract new composers and performing opportunities.
Unique Contribution: Since our first performance in 1999, we have expanded the pre-existing repertoire of three published oboe/bass duos to over forty new pieces, essentially creating the oboe/bass duo genre. Our music exploits the complementary timbres and characteristics of our instruments, and explores crossovers between many musical genres. The wide range of styles and expression and the high quality and appeal of the music written for us convinced us to pursue a career as an oboe/bass duo. We endeavor to establish the oboe/bass duo as a recognized compositional idiom and ourselves as a viable ensemble.
Distinctive Musical Voice: As the world's only professional oboe/bass duo, our unique career focuses on reaching, involving, and educating people with the creative power of music. Our performances educate; our educational programs are engaging performances. In recitals, we draw audiences into our musical journey of pioneering a new genre. We share the genesis of pieces. We personally know all of our composers, and relate the creative process to our audiences. Our repertoire is virtuosic, demanding, and accessible, with folksong, jazz, tango, and literary inspirations. We make contemporary chamber music comprehensible, meaningful, engaging, and inspiring for our audiences.
Education: Our Pages of Music with Rolf and Carrie educational programs link music with children's literature, and fill a real need for bringing music to the schools in a diverse, compact ensemble. We also reach senior audiences across the state with monthly music learning series exploring topics including the orchestra, individual composers, African American music, Tchaikovsky's and Ellington's Nutcrackers, and more.
What's Next? We constantly seek new commissions, collaborations, and levels of performance. We develop new programs, learn new repertoire, and have several recording, performing, and publishing projects in progress. We've come a remarkably long way creating a new type of ensemble and career, and anticipate continued growth. Thanks for being part of our journey!