OboeBass! Concerts
OboeBass! loves the first pieces composed for us – after all, they inspired us to take the leap of creating our duo career! We've enjoyed the journey through all the different compositional directions that followed. We eagerly seek out composers and collaborations. We also like finding and making OboeBass! arrangements of classical standards. Whatever you're looking for, we have all sorts of programs ready to go, and can even create a custom program to fit your needs and timelines.
A sample of concert experiences OboeBass! can bring to you: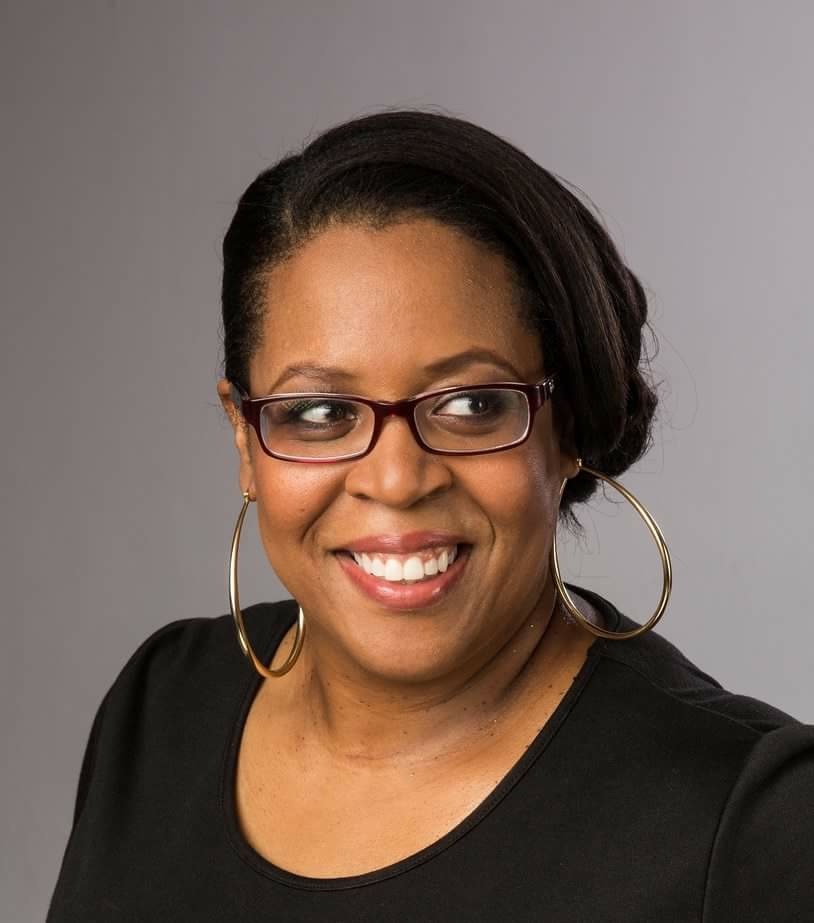 American Vein
An exploration of Americana, and what America can mean to all of us that make up this melting pot nation. Music inspired by ethnic traditions, folk idioms, and jazz. Features Valerie Coleman's American Vein, composed for us through a Chamber Music America Classical Commissioning Grant. We also perform music of Randall Davidson, Timothy Goplerud, Adrian Mann, Eric Hanson, Julie Johnson and Stephen Foster.
Music of Timothy Goplerud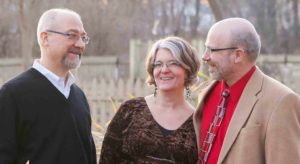 Timothy Goplerud, "The third member of the OboeBass! duo," has composed over 20 works for us – all engaging, profound, witty, and fun. There's tremendous variety and charm in these pieces, all infused with his distinctive compositional voice. Our last duo album, Monk Fish Tango, is all music for English horn and bass Tim composed for OboeBass! For a sample of his music, check out our YouTube Channel where we play many of his pieces.
Norway's Music of the Mountains
Norway's vibrant living folk tradition of music and stories permeates the culture and continues to influence new art works. We will share stories, traditional folk tunes, and national songs, including music of Grieg, Nordråk, and current composers influenced by Norwegian culture. Variants of the program featuring Edvard Grieg's Peer Gynt music or Margi Griebling-Haigh's Askelad and the Seven Silver Ducks, Askelad is also available as a book/CD, composed, written, illustrated, and produced by the multi-talented Margi at MPR Studios.
Women's Works
This concert rotates a list of pieces written by women for duo oboe and bass. We love to play this music! These pieces regularly show up across our program offerings. All but one of these works were expressly written for OboeBass! Composers include Mary Ellen Childs, Andrea Clearfield, Valerie Coleman, Margi Griebling-Haigh, Julie Johnson, and Sarah Miller.
The Many Faces of Cy DeCosse
Cy DeCosse's breathtaking art photography, sculptures, and paintings delight, amuse, and inspire. We celebrated Cy's recent 90th birthday retrospective exhibition at the Minneapolis College of Art and Design (MCAD) by commissioning six composers to each create a movement for OboeBass! exploring the artwork of their choice from the collection. We present a concert projecting Cy's images, accompanied by the evocative music of Randall Davidson, Steve Heitzeg, David Evan Thomas, Tim Goplerud, Sarah Miller, and Mary Ellen Childs.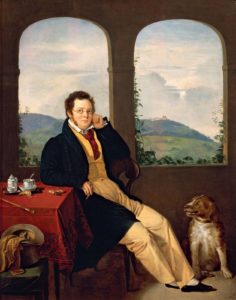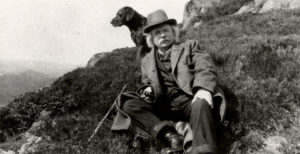 Something Borrowed
– Reimagined Masterworks
Just think what great composers of the past might have come up as pioneers of the combined possibilities of oboe and bass! This concert includes arranged masterworks of the past and recent jazz and ethnic standards – music of Handel, Grieg, Piazzolla, and Monk. It also puts idioms of the past in new clothes. We perform Tim Goplerud's new variations for Schubert's "Trout," and Randall Davidson's exposition of the seven elements of comedy, as taught at the Ringling Bros. and Barnum & Bailey Clown College, in his theatrical resetting of Stephen Foster's song, My Wife is a Most Knowing Woman. In all this music OboeBass! tracks down surprising new ways to enjoy this music you may already know and love.
"So What Does the World's Only Professional Oboe/Bass Duo Do Anyway?"
A 60 minute journey through the evolution of OboeBass! This lecture/performance covers many topics relevant to carving out a successful career in today's music world – including commissions, grants, education, performance, advocacy, entrepreneurship. This presentation is ideal for all music students regardless of concentration, and works well for Recital Hours, Master Class, Seminars, All-School meetings, etc.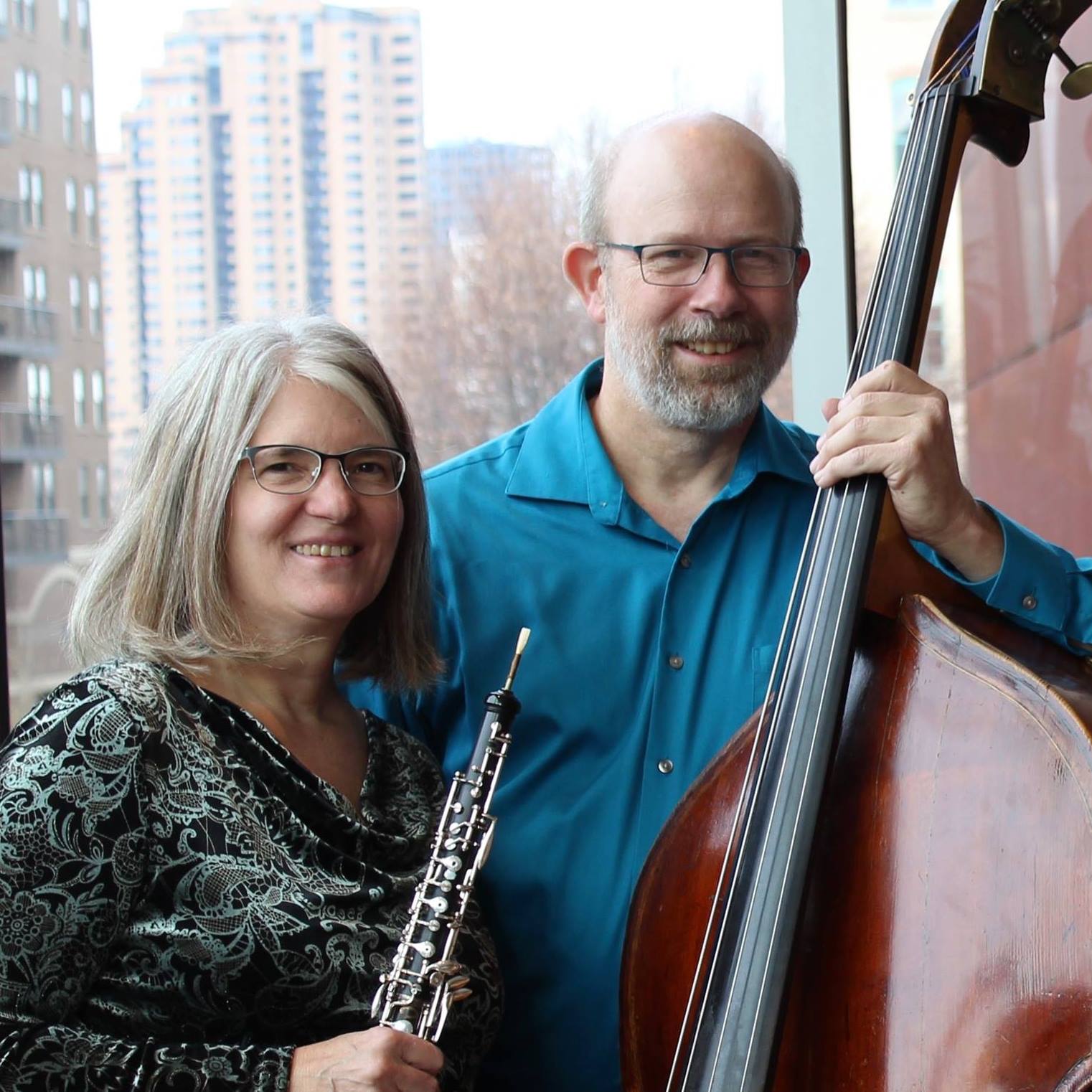 Music through the Ages for Your Event in the Here-and-Now
Yes, we do play weddings! And corporate events, private parties, and reception music. We've arranged some of our favorite light classical music from the Renaissance to now for OboeBass! The sounds we make – high and low, wind and string fit together well and suit a lot of styles of music, whether it's great classics of the past of Bach, Mozart, Beethoven; Rags, Blues, and Jazz of masters from Joplin to Monk; or pleasing new works written for us that cross over between many styles and influences. We will share music with you to enhance your event and brighten your day. Give us a call. We'd love to play for you!