Home
»
Pages of Music with Rolf and Carrie Educational Programs
Pages of Music with Rolf and Carrie Educational Programs
P
ages of Music with Rolf and Carrie brings age-appropriate music programs to life for kids. We perform and demonstrate on our instruments, introduce basic musical concepts, and share children's literature to show kids the creative power, beauty, and sheer joy that await them in the wild, wonderful, multifaceted world of music.
Music has the power to instantly grab a child's attention. Our series of original programs blend storytelling, performance, and children's literature about music to bring basic musical concepts and history to life. It is a thrill for us to see young people catch an enthusiasm for music so that they may become the performers and audiences of the future. As we pass on the traditions of the past, we help students be part of what is to come in the ongoing, wildly rollicking, and ever relevant history of classical music.
We are committed to perform as arts advocates bringing music into the community. We both have extensive performing and teaching experience including performances at many schools through the Saint Paul Chamber Orchestra's CONNECT Program, Young Audiences of Minnesota, and the Duluth-Superior Symphony's Community Engagement Program. We are also an award-winning performing duo.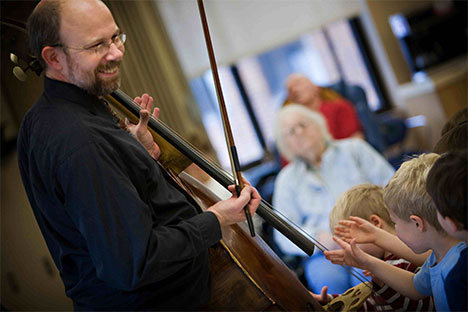 In a residency we teach a selected group of students to create their own Pages of Music performance using instruments they make and compositions they write, culminating in a final public performance. In five days we will have worked in music, art, literature, and history. In addition we perform for all students in the school and can assist band/orchestra directors in master classes or sectionals.