News & Press
MINNESOTA STATE ARTS BOARD AWARDS CARRIE VECCHIONE CREATIVE SUPPORT FOR INDIVIDUALS GRANT

"Carrie Vecchione of Apple Valley will update her video teaching equipment so she may better communicate online, and continue teaching oboe and reed making lessons."
Carrie has made good use of this new equipment and upgraded connections to optimize the online experience for her students and keep lessons going strong, "literally virtually" uninterrupted by the pandemic.
Carrie Vecchione is a fiscal year 2021 recipient of a Creative Support for Individuals grant from the Minnesota State Arts Board. This activity is made possible by the voters of Minnesota through a grant from the Minnesota State Arts Board, thanks to a legislative appropriation from the arts and cultural heritage fund.
HARVARD UNIV. FROMM FOUNDATION COMMISSION AWARDED TO MARY ELLEN CHILDS FOR NEW OBOEBASS! PIECE.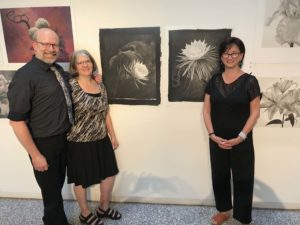 We're thrilled to announce our latest OboeBass! "commission mission" news – Mary Ellen Childs was a 2020 winner of Harvard's prestigious Fromm Foundation Commission to write a piece for OboeBass! We've long loved Mary Ellen's distinctive musical voice and have been looking for a way to make a collaboration work for a major new oboe/bass piece from her fertile imagination.
The working title of the piece is, There is a Humming. It will address issues of climate change inspired by sounds, sights, impressions, and scents from her recent sound research trip to Svalbard. This commission was made possible by a grant from the Fromm Music Foundation. Click here for the Fromm Foundation announcement.
CHAMBER MUSIC AMERICA AWARDS OBOEBASS! CLASSICAL COMMISSIONING GRANT FOR A NEW PIECE BY VALERIE COLEMAN.
New York, NY – 7/30/18 – Chamber Music America (CMA), the national network for ensemble music professionals, today announced . . . eleven grants totaling $198,450 have been awarded through the Classical Commissioning program, which provides support to U.S.-based professional ensembles and presenters for the creation and performance of classical contemporary chamber works. [Valerie Coleman, composer, flutist, and founder of Imani Winds will compose a piece for OboeBass! entitled "American Vein," on themes of Americana including narration by the performers. The piece is to be completed by September of 2019 and premiered in 2020. [See also SunThisWeek article for more details.]
MINNESOTA STATE ARTS BOARD ARTS LEARNING GRANT AWARDED TO OBOEBASS!
9/4/14 – Carrie Vecchione and Rolf Erdahl were awarded a Minnesota State Arts Board Arts Learning Grant. "Carrie Vecchione and Rolf Erdahl will present their Pages of Music series of music education programs, once a month for seven months, in ten different senior residences in various Minnesota cities for a total of seventy presentations to Minnesota seniors."
PREVIEW BLOG AND NEWSPAPER ARTICLES FOR DUO'S RECITAL IN BIGFORK, MN
9/12/13 – We gave a well-received public recital and in-school Mozart, Boy Genius! educational program in Bigfork, MN. The Edge Center Blog and the Grand Rapids Herald-Review newspaper reviews gave us great preview write-ups, including press confirmation of our "license to thrill!"
DUO CHOSEN AS MPR ARTISTS IN RESIDENCE FOR 2013-14!
8/2/13 – We are thrilled to announce that we have been chosen as Minnesota Public Radio Artists in Residence for 2012-31! We will perform for at least 5 different schools in the Twin Cities area, and will record several tracks for an MPR CD including other Artists in Residence that will go out to 20,000 kids in the Twin Cites! More details to follow!
VECCHIONE/ERDAHL DUO VOTED SAMPLE NIGHT LIVE AUDIENCE FAVORITES!
3/7/12 We're proud to announce that the Vecchione/Erdahl Duo was voted "Audience Favorite" at Sample Night Live! The audience votes for their one favorite of the dozen acts doing 7 minute sets. In 5 years of Sample Night Live programs, this was the first time Classical musicians won the vote. This means we're invited back to play for the annual audience favorites show, 12/5/12.
Links:
Also:
Press Photos:
Click for full size. Credit: Nancy Varberg Photography unless otherwise noted.