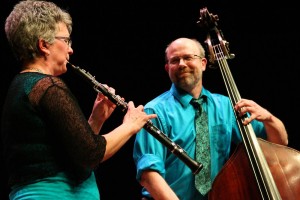 OboeBass! presents a recital of music from various sources of the the American melting pot experience, focusing on and spinning off from Valerie Coleman's "American Vein." OboeBass! is oboist Carrie Vecchione and her husband, bassist Rolf Erdahl. Hailed by MPR as "pioneers in the classical music business. Forging ahead with a new chamber music combination that sounds so….well, so right!"  OboeBass! has partnered with a wide range of composers, and commissions from Chamber Music America and The Fromm Foundation, to create a new genre built on the combined sounds of oboe and bass. In venues from Fermi Lab to the Fitzgerald theater, audiences have described OboeBass! concerts as "inventive, cheeky, informative, and delightful."  Other featured composers include Tim Goplerud, Stephen Foster, Eric Hansen, Julie Johnson, and Adrian Mann.
Valerie Coleman composed "American Vein" for OboeBass! through a Chamber Music America Classical Commissioning Grant with generous support from the Andrew W. Mellon Foundation. Described as one of the "Top 35 Female Composers in Classical Music" by critic Anne Midgette of the Washington Post, Valerie Coleman (b. 1970) is among the world's most performed living composers. Her works are highly regarded as a deeply relevant contribution to modern music. She is founder, creator, and former flutist of the Grammy® nominated Imani Winds, one of the world's premier chamber music ensembles. She currently serves as Flute and Composition Professor at the Mannes School of Music in New York.
The Concert will be performed at the Gichi-ziibi Center for the Arts, 602 S 5th St, Brainerd, MN 56401
Free!
Registration required
The concert program:
American Vein
A Walk in the Park  (2006), by Timothy Goplerud (b. 1960)
Vignettes from the Miraculous Journey of Edward Tulane (2006), by Timothy Goplerud
Jangles Dances for Pennies
Malone's Hobo Song
Down But Not Out
Hard Times Come Again No More (1854), by Stephen Foster (1826-64), arr. 2008 by Eric Hansen (b. 1963)
Folk Suite for Oboe and Bass (2014)by  Julie Johnson (b. 1975)
I.

 

Prelude

 

II. Koiviston Polska
Torden og Lyn (2012), by Adrian Mann  (b. 1949)
      Finale: Nordfjord "Plucked" Halling 
Canzone Vecchione (2005), by Adrian Mann
      Finale: Cantate con me
—Intermission—
American Vein (2020), by Valerie Coleman (b. 1970) 
The Redwood Forest

                                                 

              

On Route 66
Woodstock: Summer of 1952
The Melting Pot
Barn Raising, Bourbon and Bluegrass (BB&B)
This activity is made possible by the voters of Minnesota through a grant from the Minnesota State Arts Board, thanks to a legislative appropriation from the arts and cultural heritage fund.