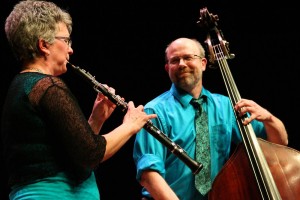 OboeBass! Performs two major works from their varied repertoire, Fri., Oct.20, 7:00 pm at Studio Z in Lowertown St. Paul. The program is called "American Vein" and consists entirely of original music by American composers, written for OboeBass!
OboeBass! is the duo of Carrie Vecchione, oboe, and Rolf Erdahl, double bass, "The world's only professional oboe/bass duo." Based in Apple Valley, they have performed recitals and other musical events across Minnesota, in 20 other states, and in Norway.
The concert begins with with Tim Goplerud's breezy, whimsical "A Walk in the Park," proceeds to the multi-media "The Many Faces of Cy DeCosse," by six composers, and concludes with Valerie Coleman's "American Vein," her visionary homage to the best things America has to offer everyone.
"The Many Faces of Cy DeCosse" traces the highly successful advertising, publishing, painting, and photography career of Cyrille "Cy" DeCosse. It is a pictures-at–an–exhibition style piece by six composers responding to artworks from a recent Cy DeCosse retrospective exhibition at MCAD. Video clips of Cy describing his artistic process precede each movement. The piece was composed by Randall Davidson, Steven Heitzeg, David Evan Thomas, Sarah Miller, Timothy Goplerud, and Mary Ellen Childs. It was commissioned by Penny and Bill George and the George Family Foundation.
Even if you are not familiar with his name, you are familiar with Cy DeCosse's images. He created unforgettable ad campaigns including Mr. Bubble, the Hamms Beer Bear, Pillsbury's Funny Face juice flavors, Downy Fabric Softener bouncing on towels, and a legacy of mouth-watering food ads for General Mills and others that set the current standards for food photography. He was mentioned as a Minnesota winner of a Cleo advertising award in the Mad Men TV series. In his post advertising career, DeCosse has dedicated himself to finding the "hidden life in everyday objects" with superlative skill and care as a fine art painter and photographer."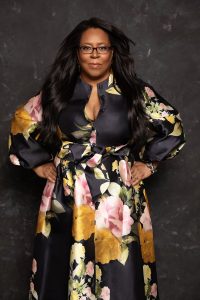 Described as one of the "Top 35 Female Composers in Classical Music" by critic Anne Midgette of the Washington Post, and named 2020 "Classical Woman of the Year" by NPR's Performance Today, Valerie Coleman is among the world's most-performed living composers. Next season, she will be "Sandbox" composer in residence for the SPCO. Valerie Coleman composed "American Vein" for OboeBass! with support from a Chamber Music America Classical Commissioning Grant and the Andrew W. Mellon Foundation. It is a 5 movement musical road trip across America, celebrating the best things America has to offer everybody. Starting from the Redwoods, it travels down Route 66, visits the Woodstock of John Cage and Jimi Hendrix, pays homage to immigration and the melting pot at the Statue of Liberty, and ends up at a memorable barn raising in Kentucky.
The concert takes place at 7:00 pm at Studio Z, 275 East Fourth Street Suite 200, Saint Paul. Tickets are available at the door for $20 (students and seniors $15), or at Studio Z's website. http://www.studiozstpaul.com/oboebass-102023.html.