Christmas Eve, 1914/2014. Stille Nacht — Silent Night — Glade Jul
Posted on December 24, 2014 by Rolf in Blog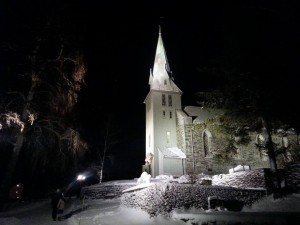 One hundred years ago tonight, song and holiday spirit combined to stop WWI in its tracks. This story was originally posted on our blog 12/24/12. We repost this updated version in celebration of this centennial year of the Christmas Truce, because we are continually amazed and inspired by the power of music in general, and, in particular, by the stories generated by "Silent Night" in the 196 years since its humble premiere, and especially in honor of the Heavenly Peace that descended on the Western Front one hundred years ago tonight.
————–
One of our most rewarding activities as a duo is our series of Pages of Music programs we present for senior residences and centers. In November and December, we've gotten into the holiday spirit presenting two seasonal senior programs to a number of residences across Minnesota: "The Jazzy Nutcracker," comparing Tchaikovsky's original score with Duke Ellington's jazz arrangements; and "Stories of the Carols," combining history, story-telling,and singing along. Silent Night always elicits the best response and singing, has the richest history, and generates moving stories.
Though many carols mix words and music from different times and places, Stille Nacht came together to be performed by its creators at a specific time and place: Christmas Eve, 1818, at St. Nicholas Parish in Oberndorf Austria, with a poem by parish priest, Father Joseph Mohr, set to guitar accompaniment by the church organist, Franz Grüber. Legends have grown up around the event, including the possibility the premiere was performed with guitar accompaniment because the organ was out of order that night due to hungry mice eating and destroying the bellows. The piece went on to be so popular, that everyone assumed it was an ancient folksong and tune. Nobody in 19th century Austria believed it could have been written by contemporaries, and Franz Grüber had to go to considerable trouble to find an old library manuscript substantiating his and Father Mohr's parts in its creation, and wrote an article about his memories of its composition and premiere. For more info, visit the Silent Night Foundation
We've performed this program all over Minnesota, and have independent confirmation of the story. When we were about to perform it in the little town of Belgrade in west central Minnesota, a woman said, "Oh, 'Silent Night.' That was written by Franz Grüber. His great-grandson lives on the farm next to ours. We know that story!"
The most famous stories of the power of this song to spread peace and joy comes from 96 years after Mohr and Grüber's first performance, on Christmas Eve of 1914, in the trenches all along the 450-mile-long Western Front in the "War-to-End-All-Wars." Someone on one side started singing a Christmas song, and soon soldiers on both sides began singing carols at each other. When the Germans sang Stille Nacht, English soldiers joined them with the English Silent Night. A German soldier walked into No-Man's-Land holding a white truce flag in one hand and a Christmas tree glowing with lit candles in the other, and started the Christmas Truce in his stretch of the Western Front. Soldiers from both sides filled No-Man's-Land, traded chocolates and trinkets, shared photos from home, and even played a soccer game. In following days these men became so ineffective as soldiers that the opposing generals had to rotate fresh troops up to the front to resume the fighting. Rolf's biggest annual challenge is getting through sharing this story without choking up. This story has recently been retold in authoritative books, Christmas Truce, by Malcolm Brown and Shirley Seaton, and Silent Night by Stanley Weintraub; the Kevin Puts Opera, Silent Night, winner of the 2012 Pulitzer Prize in music; and in Christmas in the Trenches, a beautiful song and children's book by John McCutcheon. This video shares the story of McCutcheon's song.
Silent Night revives old memories. After one of our "Stories of the Carols" programs, one man recalled that years ago he had a school unit where a guest came in and taught them German language and culture with the words and translation to Stille Nacht. Years later he realized the charming guest was the local rabbi. In 2012, a 103-year-old woman told us she grew up in a German-speaking town in Minnesota and learned Stille Nacht from her immigrant grandparents. She may have sung it in 1914 as a five-year-old, the same night as the WW I Christmas Truce.
Father Mohr's words to Stille Nacht have been translated into many languages across the world but somehow never caught on in Scandinavia. When we put together a program for Ingebretsen's, a Minneapolis Scandinavian specialty shop, we realized that though Grüber's Stille Nacht tune is a favorite across Scandinavia, the words are from a totally different text, Glade Jul, which translates as "Joyous Christmas." Norwegian and German are very closely related languages. It would have been very easy to translate the German Stille Nacht, Heilige Nacht to the Dano-Norwegian Stille natt, hellige natt with minor modifications to keep it in rhyme. This was in fact done in an 1843 publication by a Danish composer, organist, and teacher, A. P. Berggreen, but the words that stuck in Scandinavia were by another Dane, Bernhard Severin Ingemann, who wrote Glade Jul to be sung to the same tune in 1850. The main difference in the texts is that Stille Nacht retells the nativity story, and Glade Jul is set in present tense and relates our current world situation back to the nativity.
A translation of the Norwegian version follows, 1st verse translation from Mike and Else's Norwegian Songbook:
1) Joyous Christmas! Holy Christmas!
The Angels are descending,
Coming with Green boughs from heaven
Where they know what is beautiful to God.
The Angels walk in our midst unseen
The Angels walk in our midst unseen
2) Christmas joy, eternal joy,
Holy song with heavenly sound
These are the angels the shepherds saw
When the Lord lay in the manger
Eternal is the angels' song
Eternal is the angels' song
3) Peace on earth, joy on earth
The Jesus child among us lives
The angels sing of the beautiful child
He has opened the door to heaven
Blessed is the angels' song
Blessed is the angels' song
4) Blessed peace, heavenly peace
Resounds Christmas night here below
Angels bring to big and to small
The word of he who in the manger lay
Rejoice in each soul he has saved
Rejoice in each soul he has saved
Whatever your faith or creed, joys or sorrows, we wish you peace, love, joy, and comfort that can come from a song, now in this Silent Night, and in the year to come.
Glade Jul!