Musings on Transcendence, "Pershing's Own," Marian Anderson, Orchestra Lockouts, and Semi-Trailers
Posted on April 1, 2013 by Rolf in Blog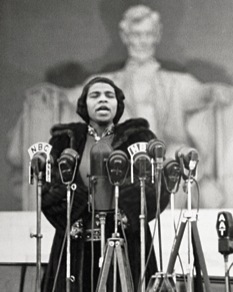 The arts can give people occasional glimpses of something great outside themselves, that lifts them to a higher state of awareness of beauty and wonder in the world around them, in others, and in themselves. We may not often get these transformative moments of transcendence, but we recognize them when they hit us, remember them long after, and need them.
The recent Easter season brought forth thoughts of transcendence and where it comes from and who it's for. For some, Easter is just bunnies and eggs. For Christian believers, it's the holiest of holidays that enfolds them with self-sacrificing divine love that invites, lifts, and welcomes them to a higher state of grace that transcends human frailty and limitations. Regardless your core religious beliefs or lack thereof, fundamental Easter notions of self-sacrifice, giving your all, being open to messages that give grace to go on, and recognizing a spark in our individual humanity that is part of a bigger picture, all resonate strongly with the better part of human nature, our aspirations, and our experiences of the transcendent.
As our duo tours around the state and nation, our goal is to entertain, educate, and uplift our audiences. We often find ourselves on the learning end of the equation through stories and reactions from our audiences, and through what we see and learn on the road. Some recent experiences brought home to us the power and presence, as well as the potentially ephemeral fragility of transcendence. One of the messages came from a performance by the US Army Band, "Pershing's Own." Another came from an audience member at a library in Long Prairie, MN. Another came from the back of a semi-trailer on I-94. The last grows from concern about the effects of the ongoing, drawn-out lockouts of the Minnesota Orchestra and the Saint Paul Chamber Orchestra.
After our March 9 recital at George Mason University, we heard the US Army Band, "Pershing's Own," perform a concert outlining the history of the band, up to and including a world premiere of De Profundis for Oboe and Concert Band by Timothy Goplerud. Pershing's vision inspired us. He founded a great band dedicated to the idea of bringing music of the highest caliber to all people, wherever they were, from world leaders, to liberated civilians, to troops in the field, to concert-goers on the parade ground. He insisted on excellence, believed in the unifying, inspiring, healing power of music, recognized the value of the connections that arose between the army band, the troops and civilians they performed for, and forged partnerships with leading forces in music including Walter Damrosch, The American School at Fontainebleau, and Nadia Boulanger, all of which had a tremendous influence on the leading composers, orchestras, music history, and audiences of the 20th century. Pershing's vision and commitment created a "service band" that is both a standard bearer for the Army branch of US armed services, and a transcendent "band in service" to humanity exemplifying music's power to heal, unite, lead, uplift, and transform.
Back in Minnesota,  at the Long Prairie Public Library, we presented our Pages of Music with Rolf and Carrie educational program, "The Spirit Sings," about the history and legacy of African-American music. This program includes a section about the inspiring life and music of Marian Anderson, including her historic, transcendent performance, sung for a crowd of 75,000 people from the steps of the Lincoln Memorial on Easter Sunday, 1939.  During our DC tour, we stood on the same spot where Marian sang My Country 'Tis of Thee, and where Dr. Martin Luther King, Jr. gave his "I have a Dream" speech, and strongly felt the ongoing power and resonance of these words, sounds and events. After our library performance, an appreciative audience member related a story from his past about a party with U of MN students in the 1950s. His friend who hosted the party pulled him aside and said, "Watch what happens when I put on this LP!" What had previously been simply pleasant background music transformed into an arresting focal point, and a room of partying college students fell silent to listen. It was a recording of Marian Anderson's peerless contralto voice singing the Easter spiritual, Were you There?  Something about true artistic greatness causes people to "tremble, tremble," regardless of their artistic training or exposure.
On our drive back to the Twin Cities, we followed a semi-trailer truck emblazoned with the motto, "Our Greatest Resource is 63 feet Ahead." Our daughters did the math estimate and realized 63 feet in front of that sign was a driver.  A company that advertises its trust, pride, and confidence in its employees on the back of its vehicles sounds like one worth hiring, investing in, or sending in a job application. This stands in sharp contrast to prevalent management pronouncements about the Twin Cities orchestra lockouts, where musicians seem to be seen and treated as recalcitrant children, drags on the budget, and replaceable machine cogs, where seasoning and experience count for nothing beyond seniority that makes them more expensive and expendable. Through recent departures and a lack of auditions to fill positions, the Minnesota Orchestra is currently missing nearly a quarter of the orchestra (23%) and nearly a third of the string section (32%), including half of the titled string players (figures not available for the SPCO). The musicians of the Minnesota Orchestra and SPCO are the greatest resources of our orchestras. They've given us more than our share of transcendent moments, including in this year of lockout and bitter strife. Transcendent moments come from recognizing and valuing the contributions of individual human beings, whether their commitment and convictions enable them to drive a truck well, establish a service band, sing a song that stops people in their tracks, or make awe-inspiring music together as an orchestra.
Transcendence isn't an accident. It comes from people acting singly or in concert, who have dedicated their lives to seeking and making it happen. It isn't reserved for the few members of a trained or privileged elite. It is intended for us all, and reaches out equally to everyone that has ears to hear. Hopefully it's still not too late for all of us to open our hearts and minds and demand and expect the best from ourselves, our institutions, and their stewards. Are you the one with the idea, handshake, letter, or pledge to the future that provides the transformative, transcendent, tipping point? Think about it over a third helping of Marian Anderson's Easter vocal transcendence in Erbarme dich from Bach's St. Matthew Passion.